"Old wizarding family, the Cromwells. From Britain, I think. I've heard they're related to those crabby Malfoys. They're America's most famous wizarding family; pure-bloods, the lot of them. You don't see too many of those anymore."
—Dion Jones about the Cromwell family
Cromwell is the surname of an American pure-blood wizarding family and is considered one of the most famous. The Cromwells are rumored to be related to the Malfoys, which, if true, would make them related to a majority of the other pure-blooded families still located in Great Britain.
History
Early history
"The Cromwells profess themselves as the 'survivors of the Salem Witch Trials.' As a result, they set up shop in Salem and intermarry with other pure-blooded families. They are one of the few wizarding families in this post-Voldemort era who still observe such archaic practices as blood-purity."
—an excerpt from The Magical Families of North America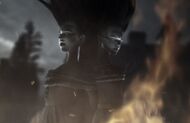 At some point, the Cromwells migrated from Great Britain to America.
Several Cromwell witches were victims of the Salem Witch Trials. As a result, they proudly proclaim themselves "survivors of the Salem Witch Trials," and have rooted themselves in Salem, Massachusetts.
Behind the scenes
Ad blocker interference detected!
Wikia is a free-to-use site that makes money from advertising. We have a modified experience for viewers using ad blockers

Wikia is not accessible if you've made further modifications. Remove the custom ad blocker rule(s) and the page will load as expected.